See the Cranes Live HERE!
Crane Watch Brochure
Central Platte NRD has free crane and waterfowl viewing decks along the Platte River with free parking. Locations:
▪ Richard Plautz Crane Viewing Site: 1.5 miles south of 1-80 Exit 285 (Gibbon)
▪ Alda Crane Viewing Site: 2 miles south of 1-80 Exit 305 (Alda)
There are three additional roadside turnouts to enjoy safe viewing located south & east of the Alda interchange on Platte River Drive, and west of Rowe Sanctuary on Elm Island Road. (See maps below.)
Upgrades for 2021 The board selected JEO's Lincoln office to design upgrades to the Richard Plautz Crane Viewing site near Gibbon. The total cost of the project is estimated at $315,000 with Central Platte NRD's share totaling $16,000. JEO's Grand Island office will be involved with construction oversite with the tentative schedule for completion in late spring 2021. CPNRD has received two grants to assist with rehabilitation of the site located at the intersection of Elm Island Road and Lowell Road. Central Platte NRD has received two grants to assist with rehabilitation of the Plautz Crane viewing site in Buffalo County at the intersection of Elm Island Road and Lowell Road. The site consists of two elevated wooden viewing decks, a 1,650-foot trail, and a parking lot to provide a safe area for the public to view Sandhill and Whooping Cranes as they migrate through Nebraska in the spring. In the mid-1990s, CPNRD was a partner in building the site to increase public safety by reducing the extra in-flow of traffic and cars parking on nearby county roads which are heavily used by local residents. The site is also a great way to increase public awareness of Nebraska's Platte River wildlife. Grants received:
Recreational Trails Program (RTP) $259,500.00 from the RTP administered by the Nebraska Game and Parks Commission, CPNRD is required to contribute a 20% matching share. CPNRD will remove the nearly 1,660 LF deteriorated asphalt nature trail and replace it with an 8' wide, 6" thick concrete trail and pave the 1,033 square yard gravel parking lot with 8" thick concrete.
Nebraska Environmental Trust $50,000 from NET to be used exclusively for repairs on the streambank near the viewing decks. The NRD will remove two large trees, install 2,700 LF of erosion control silt fencing, install 803 ton of quartzite riprap on the southeast side of Lowell Road bridge, install 600 willow stakes (live pole plantings) for natural, ecologically-friendly bank stabilization, and 0.6 acres of seeding and mulching once the new nature trail has been reconstructed.
Other Crane and Wildlife Viewing Sites
Nebraska Flyway
Crane Viewing opportunities and information available from: Grand Island Convention & Visitors Bureau, Hastings Convention & Visitors Bureau, Kearney Convention & Visitors Bureau, Crane Trust, and Iain Nicolson Audubon Rowe Sanctuary.
Iain Nicolson Audubon Center at Rowe Sanctuary
44450 Elm Island Rd Gibbon NE 68840, Located 20 minutes from Kearney, NE (308) 468-5282
Rowe Sanctuary will delay registration for all 2021 crane-viewing programming until at least Monday, February 1, 2021. To accommodate for smaller groups and social distancing guidelines, Rowe will only be providing the general crane viewing experiences and the overnight photo experiences this year for a tentative crane season from March 6 to April 11. Registrations will require a COVID-19 waiver for all registrants. Tours are subject to cancellation on short notice; fees will be fully refunded when it is necessary to close because of health concerns. Crane season updates will be posted on rowe.audubon.org/craneviewing and the Rowe Sanctuary social media accounts. If you have questions about the upcoming season, email rowesanctuary@audubon.org.
For those who are no longer able to see the cranes in person, Center Director Bill Taddicken recommends the live crane camera through Explore.org as a great alternative for people who want to experience the migration. Taddicken said: "People can now see the cranes from anywhere in the world." View the live crane camera at explore.org/livecams/national-audubon-society/crane-camera/>
Crane Trust Nature & Visitors Center
9325 S Alda Road, Wood River, NE 68883 – Exit 305 towards Alda (308) 382-1820
Join us for our first ever Virtual Crane Tours — coming in March 2021 — by making a donation of $75 or more. Experience all the spectacle of the sandhill crane migration without leaving the comfort of your home! Donor levels/benefits:
*MEMBER $75-$99/GOLD MEMBER $100-$249: Access to Virtual Crane Tours live webcam during crane season
*FRIEND OF THE TRUST $250-$499/TRAILBLAZER $500-$999: Access to Virtual Crane Tours webcam, professionally printed hardcover crane season book
*AMBASSADOR $1,000-$1,499/CRIMSON COUNCIL $1,500-$2,499: Access to Virtual Crane Tours webcam, Crane season book, Quarterly letter-Chuck Cooper CEO
*PRESIDENT'S COUNCIL $2,500-$4,999/TRUSTEE'S COUNCIL $5,000+: Access to Virtual Crane Tours webcam, Crane season book, Quarterly letter-Chuck Cooper CEO, President's Council VIP Crane Viewing Experience
Non-Pandemic Visits: Come inside to discover the Wild About Nature Display including murals and touch-screens full of information, shop the Crimson Crown Gift Shop and view magnificent photographs and art in the Hornady Art Gallery. When you venture outside you'll encounter the butterfly garden, a small research herd of American bison along the path to a 35′ observation tower which is located near two footbridges leads to roughly 10 miles of nature trails along the Platte River.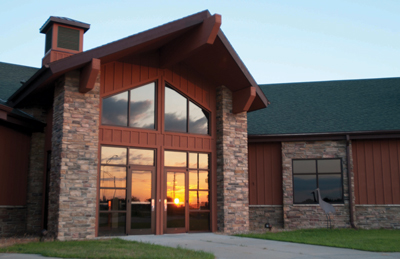 Migration Season: March 1 – March 31
Hours: Mon–Sat 8:00 a.m.– 6:00 p.m. & Sun 8:00 a.m.– 6:00 p.m.
Trails open 9:30 a.m.–5:00 p.m. Trail hours vary to protect roosting and/or loafing cranes in the area.
Crane Trust Wild Rose Ranch
6611 W Whooping Crane Dr, Wood River, NE (308) 384-4633
The Crane Trust's Wild Rose Ranch is located in south-central Nebraska on 5,000 continuous acres of native grassland prairie and wet meadows that are owned and managed by the Crane Trust. The main ranch facility is closed to the public. It includes the headquarters office, research laboratory, dormitory, Legacy Cabins, meeting/dining facilities, private crane-viewing blinds, and an outdoor deck and observation platform with breathtaking views of the tallgrass prairie and Platte River waterway. Reservations are required to access this rare ecosystem which includes an uninterrupted seven-mile stretch of the historic Platte River, which has been preserved by the Crane Trust to mirror the unique and extraordinary habitat that has been used by the endangered whooping crane and two sub-species of sandhill cranes for millennia.
Migration in the Platte River Valley
The Platte River valley and neighboring Rainwater Basin provide essential food and nutrients for Sandhill Cranes, Whooping Cranes, and other waterfowl during migration and during nesting season. At least 257 species of birds have been observed in the Rainwater Basin including 27 species of waterfowl, 27 species of shorebirds, and 5 threatened and endangered species–whooping cranes, bald eagles, least terns, piping plovers, and peregrine falcons.
Disturbances can jeopardize their health, physical condition and reproductive success. Encourage others around you to use the following proper etiquette:
Do not approach cranes or waterfowl while in the field. It will disrupt their feeding.
Do not approach birds on their roosts. Panicked flights use up precious energy resources.
Do not honk your horn, flashlights or yell at migratory birds. It is illegal and disrupts the bird watching experience for others.
Do not stop on roadways, driveways or any other farm road or gated entry. It's unsafe to stop on roadways & most land in this area is private property.
History
In 1993, a task force of various governmental & private agency representatives was brought together by Central Platte NRD to develop ideas in response to concern about safety for local residents, farmers and crane watchers in the Central Platte Valley, especially during early morning and late afternoon hours on local roads. The Task Force developed a comprehensive plan known as the Central Platte Historic, Scenic & Trails Project to be completed in phases.
Approval was granted in 1994 by the Nebraska Department of Roads under the federal Intermodal Surface Transportation Efficiency Act (ISTEA) for Phase I of the comprehensive plan developed by the task force. According to the grant application, the multi-year project promoted awareness of the historic importance of the Central Platte Valley as a transportation corridor dating from the early 1800s. The corridor was used by explorers such as Stephen H. Long and John Charles Fremont and by fur traders who passed back and forth on and along the Platte River. In the period from the 1840s-1860s, the Platte River Valley was a virtual "superhighway" as the major transcontinental route of the covered wagon migration; it became known as "The Great Platte River Road."
Three roadside turnout areas between Doniphan and Shelton on the road along the south side of the Platte were developed in Phase I. A portion of the cost was paid under the ISTEA and the remaining cost was contributed by the NRD and participating counties-Hall and Buffalo. The Audubon Society provided land for a roadside turnout near Shelton. Use of the Platte River for recreational purposes occurs now, but it is restricted by accessibility and use of the river by endangered and protected wildlife species.
The public viewing decks provide free crane/waterfowl viewing and provide a safe and bird-friendly way to view cranes throughout the day. Parking is available at each deck. Locations: Richard Plautz Crane Viewing Site is 1.5 miles south of 1-80 Exit 285 (Gibbon), Alda Crane Viewing Site is 2 miles south of 1-80 Exit 305 (Alda), three additional roadside turnouts are located south and east of the Alda interchange on Platte River Drive, and west of the Rowe Sanctuary office on Elm Island Road.
For more information on CPNRD's viewing sites, contact David Carr (308) 385-6282